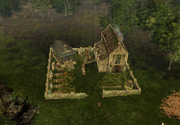 A vault is a burial place which doubles as a site for crafting nefarious items like sorcerer documents to frame your enemies with sorcery, sorcerer robes to enhance your influence, and powder of dark decay to shorten your enemies' lives. It can be built or purchased and operated by a Scholar. It can be upgraded into a Crypt and eventually into a Cemetery.
Ad blocker interference detected!
Wikia is a free-to-use site that makes money from advertising. We have a modified experience for viewers using ad blockers

Wikia is not accessible if you've made further modifications. Remove the custom ad blocker rule(s) and the page will load as expected.