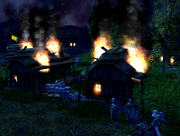 Fire is a disaster in which buildings will accumulate damage until either they are destroyed or the fire is put out. Citizens can usually be seen getting buckets to put the fire out when it occurs. It appears to occur randomly from time to time. It can also occur intentionally, for example when you firebomb a competitor's business. The game hints that fires are more damaging in summer, and less damaging in winter.
Ad blocker interference detected!
Wikia is a free-to-use site that makes money from advertising. We have a modified experience for viewers using ad blockers

Wikia is not accessible if you've made further modifications. Remove the custom ad blocker rule(s) and the page will load as expected.